Register to Vote at Antioch High School
Samuel Worden
Friday, October 02, 2020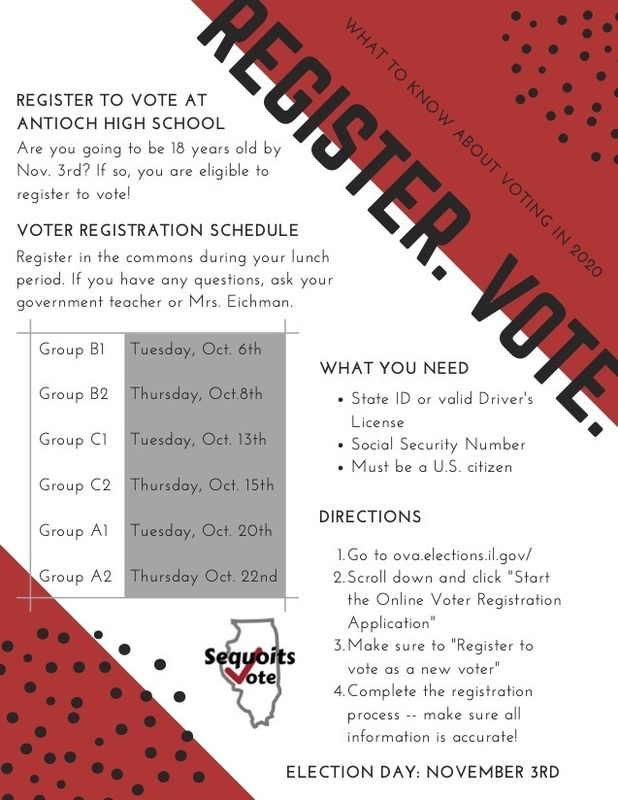 Are you going to be 18 years old by Nov. 3rd? If so, you are eligible to register to vote!
VOTER REGISTRATION SCHEDULE
Register in the commons during your lunch period. If you have any questions, ask your government teacher or Mrs. Eichman.
WHAT YOU NEED
State ID or valid Driver's License Social Security Number Must be a U.S. citizen
DIRECTIONS
Go to ova.elections.il.gov/
Scroll down and click "Start the Online Voter Registration
Application"
Make sure to "Register to vote as a new voter"
Complete the registration process -- make sure all information is accurate!
Group B1

Group B2

Group C1

Group C2

Group A1

Group A2

Tuesday, Oct. 6th

Thursday, Oct.8th

Tuesday, Oct. 13th

Thursday, Oct. 15th

Tuesday, Oct. 20th

Thursday Oct. 22nd
Election Day: November 3rd